Regular price
$75.00 USD
Sale price
$69.00 USD
Unit price
per
Sale
Sold out
Minimum order: 5 jerseys
Get your team ready to take on any opponent with our fully customizable hockey jerseys. Use our intuitive jersey builder to customize your jerseys and socks just how you want them, and easily input your team roster.
Adult and youth sizes available.
Features include:
Select patterns, colors, and logos within the jersey builder
Sublimated (printed) logos, names, and numbers
Breathable, moisture wicking polyester fabric
Dual-layered textured shoulder fabric
Dual-layered elbows
Mesh arm pit vents
Sewn rubber Kasper collar badge
Add & customize socks directly within the jersey builder
Size Guide
View full details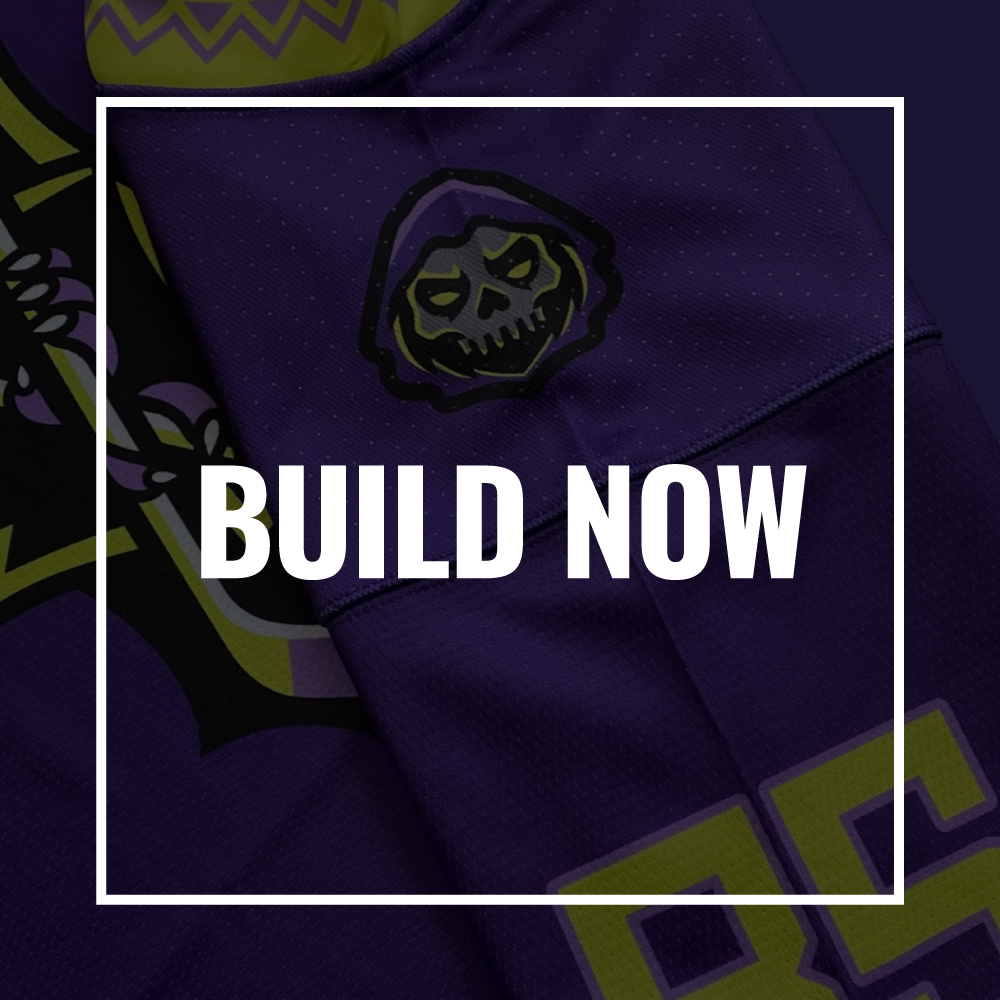 Hockey Jersey & Sock Size Charts
Hockey Jersey
| | | | | | |
| --- | --- | --- | --- | --- | --- |
| Size | Torso Length | Torso Width | Sleeve Length | Sleeve Width | Sleeve Cuff |
| Youth XS | 23" | 19" | 26" | 9" | 4.5" |
| Youth S | 24" | 20" | 27" | 9" | 4.5" |
| Youth M | 25" | 21" | 28" | 9.5" | 5" |
| Youth L | 26" | 22" | 29" | 10" | 5" |
| Youth XL | 27" | 23" | 30" | 10" | 6" |
| Youth Goalie | 28" | 26" | 30" | 13" | 8" |
| Adult S | 27.5" | 23.5" | 32" | 10" | 6" |
| Adult M | 28.5" | 24.5" | 33" | 10.5" | 6" |
| Adult L | 29.5" | 25.5" | 34" | 11" | 6.5" |
| Adult XL | 30.5" | 26.75" | 35" | 11" | 6.5" |
| Adult 2XL | 31.5" | 28" | 36" | 12" | 6.5" |
| Adult 3XL | 32" | 29" | 37" | 12" | 7" |
| Adult Goalie L | 33" | 33.5" | 35" | 14" | 8" |
| Adult Goalie XL | 34" | 35.5" | 36" | 14" | 8" |
Hockey Socks
| | |
| --- | --- |
| Size |  Length |
| Youth | 21" |
| Junior | 24" |
| Intermediate | 27" |
| Senior | 30" |
Quality Details
SUBLIMATED PRINTING

TEXTURED SHOULDERS

ARMPIT VENTS
Truly above and beyond!
Man...working with Kasper was phenomenal. One of the top customer service experiences I've had in a long time. 
I was recommended to this company from a player on my team. I thought, "heck, why not reach out?" .... I'm super glad I did.
For me, I find a sense of guilt when asking so much of a creative vendor in regards to jersey renderings and designs. Time is money. At absolutely no point during my time working with Kasper did I feel any pressure to hurry or pick a specific design. Scott was so patient and helpful. In my opinion, that is huge. I can't recommend this company enough. We are proactively recommending Scott & his company to all over the teams and leagues in our area, purely because our customer service experience was top notch and they absolutely deserve the good word of mouth recommendation. I will happily endorse them in any way I can because they've earned it.
10 out of 5 stars to Scott and Kasper Sports!
I'm pumped you and the team loved the final product, man! It was great working with you, and I'm so happy you had a great experience with us!
Couldn't have been a better experience
The customer service here is literally top notch. Scott worked with me and my captain every step of the way, even helped us with the overall design process and was very patient while we had 12 different guys giving input on the design and colors. We probably sent 50 emails/messages throughout the process and there was never once a sense of rushing us or pushing us a certain direction, just patience and help with all our requests.
Jerseys came in and everyone has been stoked. Quality is great, fit is great and the colors look awesome. Definitely have the best looking jerseys in our league.
Overall 5/5 would HIGHLY recommend.
Great product and amazing customer service
We received our jerseys yesterday and were lucky enough to have a game that night, so we could try them immediately. We couldn't be happier with the final results! If we play as good as we are looking, I don't think anybody can beat us. When I started looking for a company to manufacture our jerseys, I made several requests for quotes, but Kasper was by far the company that offered the best customer experience at very competitive prices. They're passionate about what they do, and they make sure their customers are 100% satisfied! We will surly order from them again in the futur when we need more jerseys for new players. From the Vidanges Hockey Club in Montreal, Quebec, thank you very much Kasper!!
Thanks so much, man! We're so glad you had a great experience with us, and we can't wait to work with you and the Vidanges Hockey Club again soon!
Exceptional Products & Customer Experience
The team at Kasper are passionate about jerseys and it shows. From start to finish they are incredible to work with - creative ,timely and engaging. Our jerseys reflect an exceptional eye for detail, top quality sublimation and are a hit with our team.
Thanks Brad! We're pumped that your team likes them, can't wait to work together again!
Above and Beyond customer service!
We recently ordered some fun jerseys through Kasper for a youth 3on3 hockey team. My husband found their website randomly through a google search and I am so happy he did. We custom built the jerseys through the builder tool and it was a lot of fun, there are a thousand ways you can make them unique and I love that you can see the changes you make in real time. When we were looking for a logo for the front we didn't find exactly what we wanted on the site from the many free options so we figured we would do one at a local printer after we received the jerseys. A few days after I submitted our order I received a text from Scott, he said he was from the Kasper team and he had sent me an email but I hadn't responded (so he text me, how amazing is that?) and then mentioned that we hadn't chosen a logo so he took it upon himself to do a mock. up with one that would fit our team name. This mock-up included an awesome logo and shoulder decals with our team name on the inside neckline, they were PERFECT. I thought that was amazing he had taken the time to do that without being asked just in case we wanted them. He text me again when they were in production to let me know when they were due to ship out approximately. We received the jerseys weeks ahead of schedule and they are Awesome! they are soft and comfortable and extremely well made. We love the colors and graphics and will be using Kasper again and again!
Thanks so much for your thoughtful feedback! I'm so happy we were able to provide you an enjoyable experience, and hope the kids have a great season and enjoy rockin' their new sweaters!